The Influencer Overnight Book Review
Hello everyone, I am back with a very fun and interesting blog post today. I have recently seen a lot of Influencers and Youtubers talking about The Influencer Overnight Book.
When I heard about it I knew it was right up my street and I had to get it. It is available on the Revolution Beauty's website for £15.00.
What The Book Is About
This book is jam packed with information about how to become an Influencer. I can not wait to share my thoughts on this book…
I would like to say how beautifully presented the book is I was really drawn to it by the colour scheme.
Subjects
Introduction
What Is An Influencer?
Finding Your Niche?
Staying Productive
Influencer Toolkit
Picture Perfect
#NoFilter
Money Matters
Quality Control
Brand Etiquette
Getting Started
Dealing With Haters And Imitators
Find Your Tribe
Sustainable Energy
Last Words
Glossary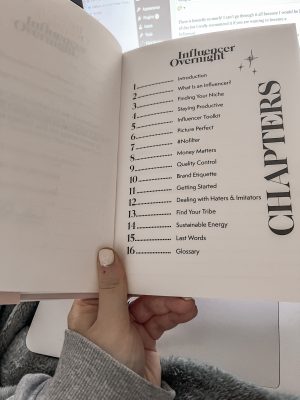 How It Helps
The chapters in this book are all so helpful, every single chapter and subject I found super helpful.
This book teaches you what an Influencer is and what it means to be one. It helps you find your niche whether you want to be a beauty, lifestyle, fashion or foodie blogger.
Influencer Overnight book also teaches you how to stay productive and about filters etc.
Conclusion
There is honestly so much! I can't go through it all because I would be here all day but I really recommend it if you are wanting to become a Influencer.
Some best bits about it I found was there are lots of words of wisdom from very big creators in here how they got started, helping hand and lots of critical words too.
You can also write in this book, your goals, your brand deal goals, your mental health, to do lists etc.
There is just so much in this book for you to read!
Check out my Instagram to see more xo