Is Luvanto the Best Choice for the Kitchen
No matter if it is cooking, washing, preparing meals or breakfasts your kitchen is the one room that takes its fair share of a beating day in and day out.
The flooring in the kitchen is the one that requires the most cleaning regularly, yet it does not necessarily have to be the case with some of the options that are on the market today.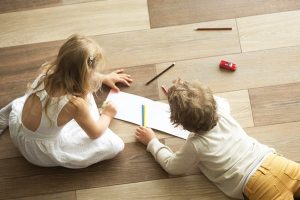 We don't mean cleaning chemicals – we are referring to a flooring option that tops the interior design list and can be installed cheaply, easily and stress-free. We of course mean Luvanto luxury vinyl flooring.
Clean up the Rumor
Let's clear up the stigma that surrounds this product. Vinyl flooring is no longer that cheap and tacky product from yesteryear. It is now manufactured to be resistant to pretty much anything whilst looking pretty darn good to boot.
The main reason people now choose to have it installed for kitchen use is that the cooking and preparing of food always has the risk of spillage or the dropping of a jar on your floor.
Older flooring tends to showcase stains after clean up attempts have been rigorously undertaken, however Luvantoluxury vinyl flooring has an easy to clean approach with the hard wear layer full of stain resistance. You can clean it with a sponge and soapy water and it won't even soak through, it's that tightly fitted.
Longer Life
Everyone has those occurrences where a scratch or violent scuff has needed to be hidden, but if you place felt pads on the feet of tables and appliances then the anti-scratch technology that vinyl has installed means your floor can last decades.
Vinyl also comes in use with anti-slip properties as well as being waterproof, meaning spillages or water from the sink or kitchen appliances will not seep through underneath the flooring causing water damage.
Style on Top, Protection Underneath
The one thing we don't have to substitute is the style when it comes to vinyl. Over decades, Luvanto luxury vinyl flooring has adopted hundreds of unique looks on top of its impressive selections of protective measures.
If hardwood flooring is your thing then you can have it anywhere from light wood to dark. If you like the feel of stepping on a stone or marble floor you can have it without the cold discomfort.
If you want some abstract or unique mixing of designs then it is also among your options open, at a fraction of the costs of the real thing. Easy on the bank balance, easy to install and easy to clean. Luvanto luxury vinyl flooring and LunvatoEndure Pro is an easy choice to make.
If you look for more time away from cleaning your kitchen floor, luxury vinyl flooring is certainly a high consideration to look into.
This post is in collaboration, however all opinions are my own.