FOREO Issa Toothbrush Review
Happy Weekend everyone! I hope you are all okay. In todays blog post I am going to be reviewing the Foreo Issa toothbrush.
As you guys know I have been using the Foreo UFO2 for months now and I love it. After having such great results with the FOREO UFO2 I am so interested in trying more products from FOREO.
Today I am going to be reviewing the Issa Toothbrush, I have had such a journey with my teeth. I have struggled for years with decay, I really regret not looking after my teeth better when I was a teenager and going to the dentist regularly. At the end of the day my anxiety got the better of me and stopped me going to the dentists.
I have always used a very standard toothbrush and have always been told I am missing areas when brushing.  Now I have had the chance to try the Issa Toothbrush I am going to share my thoughts on it.
Say hello to the FOREO Issa Toothbrush and let those pearly whites shine! The brush lasts for a whole year on one single charge through USB. It doesn't damage your gums, with 16 speeds of sonic pulses and a new hybrid wave brush head.
The things that make it so unique are it features revolutionary Sonic Pulse technology combined with innovative, bacteria resistant hybrid brush head.
I use my FOREO Issa Toothbrush twice a day, it is very gentle on my sensitive gums, teeth and tongue but powerful enough to clean.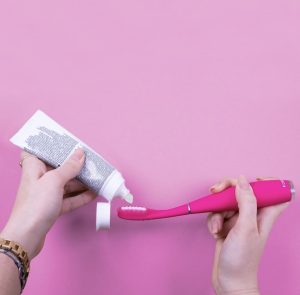 Features
On and off button, press once to turn on and press once to turn off.
After 3 minutes , Issa turns itself off to prevent overuse.
To lock and unlock controls , hold down the + and – buttons at the same time.
16 intensities for maximum comfort: increase or decrease intensities with + and – buttons.
Device will remember your preferences for next use.
Hybrid brush head, silicone and polymer bristles..
Non porous to prevent bacteria build up.
USB charger charge anytime anywhere.
Directions
Apply toothpaste and turn the ISSA toothbrush on.
Brush your teeth the same way you would a regular toothbrush.
Rinse your mouth and Foreo Issa Toothbrush with water.
Tongue cleaner- Use the Foreo Issa Toothbrush to clean your tongue to finish of your oral care routine.
Don't forget to check out my other FOREO posts