Get your dream skin in only two minutes- with the UFO 2 supercharged 2-minute facial!
I have always wanted to try one of the FOREO products, I have seen this brand everywhere! I am so excited to be sharing my thoughts on the UFO 2.
When is a better time than now to try the UFO2 when were all stuck at home. I am here to give you full lowdown on the UFO2 so you don't have to spend your hard earned pennies and investing into something before knowing if it actually works.
What Makes UFO 2 so special?
The UFO 2 features instant warming to infuse active mask ingredients deep below the surface of the skin ( where they work the best) quick cooling to shrink pores & reduce puffiness. The device has LED therapy that helps to diminish signs of ageing & visibly revitalise skin and the signature T-Sonic massage to relax facial and neck muscles.
Each treatment incorporates a carefully chosen combination of temperature and pulsation intensity for maximum effect and soothing facial massage. It actually switches between thermotherapy warm to soften the skin cryotherapy cold to lift and firm.
As well as giving you smoother, selfie- ready skin. Experience the world's first professional hand-held spa!
The benefits of the UFO 2
The benefits of the UFO 2 are endless!
Hydration: The UFO2 offers so much hydration to your skin because it fights dryness and the infuse active mask ingredients get deep below the surface of the skin.
Rejuvenate: The UFO2  locks in moisture whilst reducing the appearance of pores.
Glow & Boost: The glow you get after using the UFO 2 is unbelievable! Your skin looks so hydrated, glow and flawless.
Nourish: It adds so much hydration and nourishes your skin every time you use it.
There is also a lifting, firming, healing and soothing aspect to the UFO 2
Personalisation
You can personalise your own customised routine to meet the needs of your skin.
I love how you can connect the UFO 2 to an app on your phone. You can follow along on the FOREO app and choose what treatment you want to do. I think the app is a great addition and very intuitive.
The FOREO App features unique treatment for UFO power activated masks and FOREO sheet masks, corresponding to each mask formula.
One of my favourite things is that with the newer FOREO devices, UFO2 features the find my device function which locates and automatically unlocks your device. How good is that?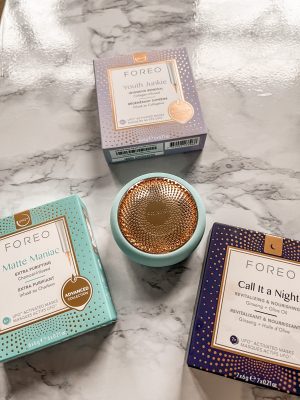 Treatments
Complete facial treatment:
Hyper- Infusion technology: combines heating, cooling & pulsations.
Ultra fast thermo therapy mode: Preps skin and enhances skin's absorption of UFO power activated masks ingredients.
Ultra fast Cryo-Therapy: Refreshes, instantly lifts and firms skin whilst shrinking  the appearance of pores and puffiness.
Tsonic Pulsations: Stimulate blood microcirculation and better absorption of products, facilitating skin renewal.
Full Spectrum LED Light Therapy: 8 Different LED lights provided targeted photo facials: Purple, white, green, orange, blue, cyan, yellow and red lights.
There are so many treatments to choose from that will suit your skins needs.
Mask Benefits
Ufo Power activated masks
Developed and sourced in Korea, the centre of the modern beauty world.
Made from ultra-soft microfiber and drenched in premium skincare formulas.
Wide range of masks to choose from.
My Experience 
I have noticed how glowy my skin is after first use. It doesn't look dull any more, very hydrated and youthful.
I have used the Youth Junkie masks and I love how it makes my skin feel and look. I feel so relaxed whilst using it and it leaves my skin so hydrated and glowy. I believe it is really important to look after your skin and sometimes it can start looking a little dull, the Youth Junkie mask has worked wonders for me!
If you include the UFO2 in your skincare routine you are going to see so many benefits.
About The Brand: Meet FOREO Sweden
FOREO is a swedish high-end beauty tech company founded in 2013.
FOREO is pronounced For-Ray-Oh
You've probably seen FOREO products, already: they can be founding more than 10,000 stores wordlwide, including Sephora, H&M, Neiman Marcus, Macy's Barney's, Selfridges and many more.
In the past 3 years. FOREO products have won more than 120 design and beauty awards.
FOREO is the worlds fastest growing beauty device brand, based on search term numbers.
FOREO products include, LUNA facial brushes, UFO supercharged 2 minute facial devices,UFO power activated mask, BEAR micro current facial toning devices, ISSA sonic tooth brushes, IRIS eye massager, ESPADA acne treatment device, other skincare products.
This post may contain affiliate links, which means that i may receive a commission if you purchase using these links.
Only On this weekend you get the amazing opportunity to buy the mint gadgets with discounts- follow the link : LINK
On UFO 2 – 20% and on UFO mini 2- 28%.
Social Media
Instagram: http://www.instagram.com/FOREO
Facebook: http://www.facebook.com/FOREO
TIKTOK: https://www.tiktok.com/@foreo_official