Today I am writing a Soap And Glory Gift Guide Christmas 2021. We are going be talking beauty and body care gifts from Soap And Glory.
We are around 7 weeks away from the big day now, so now we are officially the 1st November to me this is the countdown to Christmas. Christmas preparations are in full swing, I hope you are all enjoying the countdown and getting all festive.  2021 might be one of the biggest christmases we have had for a while considering how the past few years have been.
Something I always put on my Christmas list every year is the Soap And Glory gift sets.
Christmas Gift Sets 
 Original Pink Collec-tin £10
Soap and Glory original pink collec-tin consists of:
Clean on me creamy moisture shower gel ( my favourite) it smells unreal!
The Righteous butter body moisturiser ( another favourite)
Flake Away body polish, this is amazing too!
Hand food ( I use this every day)
Bright And Beautiful Radiance boosting mask ( I have used these too)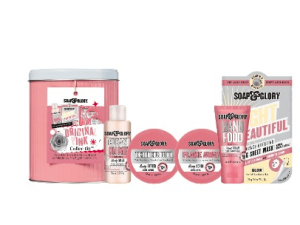 This Soap And Glory original pink collec-tin christmas gift set is an amazing deal, the products you get in here are there real original ones and I really recommend. I love Soap And Glory!
 24 Days To Prep Into Christmas Advent Calendar £42
24 days to prep into Christmas advent calendar consists of:
Clean on me hydrating body wash (pink) (My absolute favourite)
The righteous butter (original pink)
The scrub of your life
Hand food x2
Heel genius
The righteous butter
The rushower dry shampoo
Call of fruity hydrating hand cream
Face soap and clarity vitamin C wash
Bright and beautiful radiance boosting mask
puffy eye attack under eye hydrogel patches
Speed plump super hydrating miracle moisture mask
The fab pore refining sheet mask
Thick and fast mascara
Puffy eye attack eye makeup remover
Pout about it hydrogel lip mask
Clean A Colada hydrating body wash in magnifi-coco
Flakeaway body scrub
A cream come true Luminous body butter in Magnifi-coco
Call of fruity body butter
The marvellous massaging face mitt
Soap and glory nail file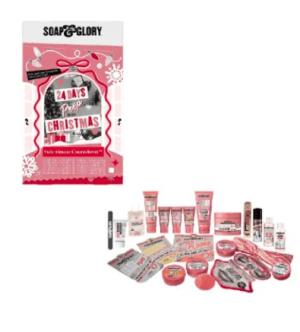 As you can see there is lots of goodies in the 24 days to prep into Christmas advent calendar.
Good Hair Days Ahead £10
The Good Hair Days Ahead consists of:
Wonditioner pink clay mask and limited edition shower cap
This looks amazing I need to try this, I have never tried any hair products from Soap And Glory.
Seeing Double £12.50
The Seeing Double consists of:
Soap and glory Glamour clean toning micellar water and Face soap and clarity vitamin C face wash.
I have tried there vitamin C face wash and I really enjoyed it. I may have to try the toning micellar water too.
 Jingle Blooms Collection £18
The Jingle Blooms Collection consists of:
Jingle Blooms body wash 250ml
Jingle blooms body butter 200ml
Jingle blooms body scrub 200ml
Jingle blooms fragrance spritz 50ml
Jingle blooms fizz A Ball bath fizzer 100g
All of these gift sets look amazing, I really do recommend Soap And Glory. I use a lot of their products on a daily basis. Make sure to check them out they make a great present for sister, auntie, best friend, mum and daughter.
I hope you enjoyed this Soap And Glory Gift Guide Christmas 2021.
This post contains affiliate links. If you use these links to buy something we may earn a commission. Thanks.
Don't forget to check out my other blog posts:
https://itsmelissajayne.com/revolution-tasty-marshmallow-wonderland-collection-review/