If you are thinking about becoming an influencer, or you already are one and you are hoping to try and improve and increase how it is going, then you should know that this is all about gaining more and more followers. The more effectively you can do that, the more easily you can grow your influencer business and gain the rewards of doing so as best as you can. In this post, we are going to take a look through some of the things that you can do to gain more followers as an influencer, so that you can hope to have more success.
Make More Content
Quite simply, one of the things that you will always need to do in order to make sure that you are gaining influence is to make more content. As long as you are always making more content, you should be able to keep things flowing quite smoothly, so this is something that you should definitely focus on as best as you can. The quality of the content matters, but not as much as the quantity, as you are trying to throw plenty of stuff out in the world and see how much of it lands. Do that, and you're going to gain a lot of interest pretty fast.
Build A Community
In essence, you are trying to build yourself into being a celebrity of sorts, so you need to think about what celebrities often have: a community around them. Once you start building a community online, there is a real feeling of connection and unity, and belonging. That is something that is going to draw people together really well and mean that they will get so much more out of it, so it's definitely something that you should focus on trying to achieve as best as you can. If you are wondering how to build an online community, it mostly comes down to choosing the right platform and getting going.
Use Multiple Platforms
You should never constrict yourself to just one platform as an influencer. Your power comes from being as visible in as many different places as possible, so you need to make sure that you are using multiple platforms and gaining more followers on all of them at the same time. That doesn't mean that you won't have a preference, and you might well spend more of your time on Instagram than anywhere else. But also doing well on Twitter and Snapchat is going to help your chances too.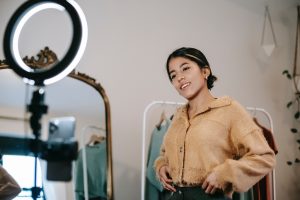 Know Your Audienc
Finally, remember that the process is two-way, and you need to make sure that you know your audience as well as possible too. The better you know the people who are watching and following you, the better you can work out what kind of content people are looking for, which means you can then tailor your feed to produce more of that. This is an intelligent and useful approach to take if you want to gain more followers anywhere.
This post is in collaboration, however all opinions are my own.