Feeling Beautiful as a Stay At Home Mom
When you think about the benefits of being able to stay home and care for your children and household, it seems like a great idea. Though choosing this path does have its rewards, it is not without challenges. A big problem that stay at home moms have is low self-esteem.
When you spend most of your time indoors caring for the needs of your family, it is very easy to start neglecting self-care practices which makes you feel bad about yourself. You don't go out much, so you stop caring about your physical appearance. After a while, however, you look in the mirror and become depressed by what you see.
Fortunately, there is a solution to all of this. Incorporating measures like those to be discussed below in your lifestyle can dramatically lift your mood and positively impacts how you feel every day.
Practice Self-Care
Just because you're in the house all the time doesn't mean you should just let yourself go. Continue to practice self-care. This means getting enough sleep each night, exercising regularly, taking daily vitamins, and eating a well-balanced diet. When you do these things you look and feel better, therefore, improving your view of yourself.
Get an Easy to Manage Hairstyle
When you have a busy schedule, you don't have time to do your hair. Neglecting hair care, however, leads to serious damage including dryness, flakiness, breakage, and hair loss. To resolve the matter, start looking at hairstyles that are easy to manage. Choosing something that is easy to unwrap and go is your best option.
Get Dressed Every Day
The idea of being able to stay at home in your pajamas sounds great. However, doing this on a regular basis can alter how you feel about yourself. So, make a point of getting dressed every day. Don't just throw on some tights and a t-shirt put on something casual or business casual as if you were going to work. If you don't have much in your wardrobe, start building one from scratch starting with common staples and then adding in some trendy items. Not only does this make you feel good, but it may also encourage you to get out and socialize.
Treat Yourself to a Facial Treatment
Tired of looking at those dark circles around your eyes or the ever-increasing fine lines and wrinkles? There's certainly nothing wrong with enlisting the services of medical professionals like Dr. Binder for facial treatments including fillers and peels. After the first session, you'll walk out feeling like a brand new woman.
Do Your Nails
An at-home manicure and pedicure can really change how you feel about your appearance. There are a lot of different nail kits on the market you can purchase to add designs, sparkles, and different textured nail polish to make them stand out. This only takes a few minutes but lasts about a week and makes you feel good. If you have all the necessary supplies at home, make it an hour of pampering. Put some warm water in a bowl or electric foot soaker, add your favorite bath salts or essential oils. Set up in a comfortable spot and either watch your favorite show or read a book while you allow your feet to soak. Once you're done, you can polish your nails.
Apply Makeup
Just because you're in the house a majority of the day doesn't mean you can't apply a little makeup to make yourself feel pretty. You don't have to do a full-on face or apply a lot to feel good. Just a bit of foundation, some mascara, and a neutral lip and eye shadow color should do the trick. If you need a little help, there are tons of quick makeup tutorials you can find online.
Have Your Teeth Cleaned
Your smile has a lot to do with your confidence and self-esteem. When you have clean, healthy, pearly white teeth you tend to smile a lot more. So, schedule an appointment with your dentist to have your teeth examined and cleaned. If you can spring for it, you can also consider a few teeth whitening sessions so your smile lights up a room.
It's common for stay at home moms to develop low self-esteem. You're in the house all day and often stop maintaining your health and overall appearance. To boost your mood and how you feel about yourself, it is important to use advice like that provided above to improve your self-esteem. In doing so you'll come to fall in love with your reflection all over again.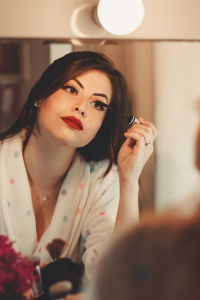 *Thanks to our site partners for making this featured post possible.