8 Alternative Fitness Ideas That You Need to Try
Getting fit doesn't mean that you have to be in the gym every day. There are plenty of alternatives to help keep you fit which are often overlooked. Here are some of our favourite ways to keep fit that don't involve a gym membership.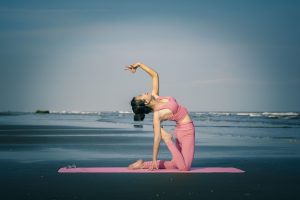 Caoha from Pixabay
Gardening
If you want a hobby that will keep you fit, engage your mind, and give your house some added curb appeal, then gardening could be the activity for you. Not only do you need to carry heavy bags of compost about the place, you need to learn how to care for your plants too. That is a double whammy for the body and the brain.
Pole Dancing
As a general rule, dancing is considered a great form of exercise. However, pole dancing is one that often gets overlooked. The difference is that you need to pull your entire body weight up a pole and perform complex spins. And, most importantly, do not fall off the pole while you are doing it.
Trapeze School
Coming off the back of pole dancing is trapeze school, which is nothing like dancing. A flying trapeze involves swinging across a net, holding onto a bar, and jumping from swinging bar to swinging bar. This exercise is not for the faint hearted but is definitely one of the more exciting fitness classes available.
Barre Class
This is another dance based practice but this one is designed for would-be ballet dancers. Using yoga, pilates, and ballet techniques, you can bring out your inner ballerina. Most places welcome beginners but if you don't want to do it in a crowd, you can easily find barre workouts on YouTube to get you started.
Motorbike Riding
You might not believe us but you need to be fit to ride a motorbike. The weight of the bike requires some strength to hold it. Balance and coordination are key components to keeping the bike upright. And you need to be able to pick it up if it falls over. Check out motorcycle gear at Moto Est to get kitted for your new hobby.
Paddle Board Yoga
If yoga and paddle boarding weren;t hard enough on their own, now there is paddle board yoga to test your balance skills. For the most part, this is done on calm waters such as a pool or lake. We doubt anyone wants to try the downward dog position going over some rapids.
Hula Hooping
If you need to work on those core muscles but are not sure where to start, try hula hooping. All you need is a hula hoop and some space to work your hip jiggling magic. This is one of the best exercises for attacking your belly area and can burn 100 calories in 10 minutes.
Walking the Dog
If you are a dog owner, you will know how labour intensive walking your four-legged fiend can be. Taking the dog for a slightly longer walk can help you burn some extra calories and might tire fluffy out.
This post is in collaboration, however all opinions are my own.