Salt & Hide Sutton Tarpa Duffel Bag
Today we are going to be talking about a new bag from Trend Him, I have tried other products from this brand and I want to share my review.
Whenever we go away as a family I always feel like I have everyones belongings in my bags. Olivias clothes and toys and also Liams my fiancés belongings too. So now he has his own bag and it is amazing!
We actually went away to Centre Parcs a few months ago and it was so much less stressful because Liam got to use his Sutton Black & Tan Tarpa Duffel Bag.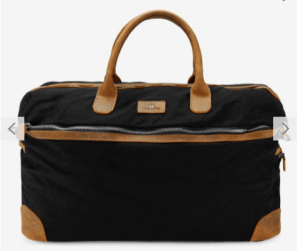 This bag is fantastic to be honest, We had to take around a weeks worth of clothes and belongings with us and Liam managed to fit all of his clothing and toiletries in this bag.
The bag has a detachable adjustable shoulder strap, very roomy and spacious inside and has durable materials.
I also had to use this bag for my over night stays in hospital the past month or so and it is just so good. I want one for myself!
When it comes to space and pockets, It has so many spaces you can put your toiletries in or phone accessories etc. It also features a large, fully-lined zipped compartment that opens to hold everything and anything.
The pouch at the front is perfect for your phone, charger or wallet.
Also Constructed with a durable black canvas and leather exterior.
This bag is truly perfect for travelling, I am very impressed with Trend Him products and will continue using them.
What do you use for travel?
I hope you enjoyed reading this Salt & Hide Sutton Tarpa Duffel Bag review.
These products were kindly gifted, all opinions are my own.