Pixi Beauty NEW Glow Skintreat Range
Happy Monday Huns!
If you follow my Instagram you will know that I received some goodies from Pixi Beauty, I am so happy that they sent me out these skin care products to try. I have kindly been gifted these gorgeous products to try. They came in this gorgeous PR box with a leaflet telling you all about the products inside.I am so excited to show you guys! Of course I have tried these beauties out first so I can give you my honest opinion.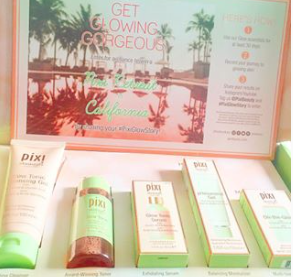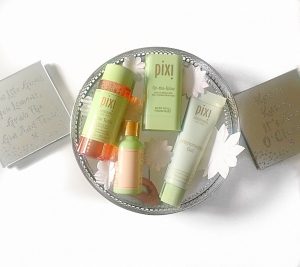 So first product I want to show you is the Glow Tonic Cleansing Gel it has moisclean + glycol acid. It is an exfoliating cleanser that hydrates your skin, it removes impurities without stripping the skin of moisture. It is formulated with moisclean and a unique blend containing glycol acid, horse chestnut extract, aloe and ginseng. It also helps refine and brighten your complexion leaving skin feeling energised and smooth.
It is my third day of using this product and I can definitely say I love it, it has like a primer finish to it, it completely cleanses your skin of any impurities but it also leaves your skin looking flawless, it blurs out all imperfections. I will definitely be carrying out the 30 day challenge to glowing skin.
The next product is the Glow Tonic exfoliating toner, this product has 5% glycol acid. To use this you ned to take a cotton pad and apply a generous amount and wipe it across your whole face and declotage. This product gently exfoliates and brightens whilst revealing healthy glowing skin. It is also for all skin types which I think is a plus for everyone. Use this AM + PM or as much as needed, make sure to avoid the eye area.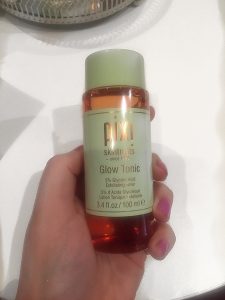 From when I used this I again feel like this is a great product, it really tightens your skin and kind of adds a shine to your skin, you get the feeling that you have had a facial which is what we all want, be honest it would be amazing if we could feel like we have had a facial everyday. This goes very well straight after the glow tonic cleansing gel. I really love this product so far and I will continue to use it for the 30 days to see how good it really is.
Next is the Glow Tonic Serum, I was really intrigued by this product and very excited to try it, it actually brings a little dropper also to allow you to apply it to your face. It is an exfoliating radiance serum, it gently exfoliates, hydrates and nourishes your skin. It softens, refines and restores radiance for a smooth and balanced skin.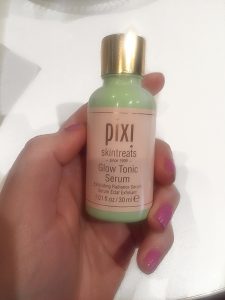 I really loved this product also, it wasnt a heavy serum, it felt very lightweight and it also gave me the same feeling as the cleanser where it blurred my skin out. You have to massage 2 to 3 drops onto your cleansed, toned skin before moisturiser. I was super glowy after using this. I will definitely continue this for the 30 days.
Next is the Phenomenal Gel, this balances PH, neutralises the moisture in your skin. It is a soothing gel that helps to balance your skin's PH. For all skin types, use a coin size amount daily after cleansing and toning. I cant wait to continue to use this in my skin care routine.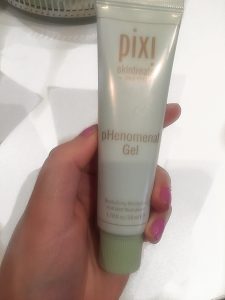 I feel like this was very similar to the cleanser, but it added so much glow to my skin, I was actually blown away how soft my skin was as well. I am very much in love with this product, I love how lightweight it is and you can just apply it and let it sink into your skin. 
The last product is something I am super excited to tell you about! As soon as I saw it on Pixi's instagram I was like this product looks amazing! It is a moisture stick, I dont think I have ever seen a moisture stick product before. This on the glow multi use moisture stick is so hydrating. You can use this on your face, body, lips and hair.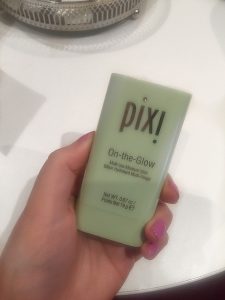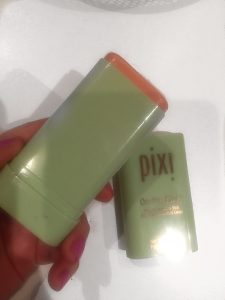 So I flipping love this product, this has to be my favourite out of them all, it is so easy to use, you just twist the base of the stick and glide it across your skin. It is such a soft product, it is easy to use and has left my skin feeling and looking amazing. I literally could not believe after using it once, my skin was so flawless and glowy, it looked like i had a cream highlighter on. I feel so confident going out with no makeup on after using this product. I woke up the next morning still feeling glowy and moisturised, I can honestly say I am so excited to see the full results after 30 days.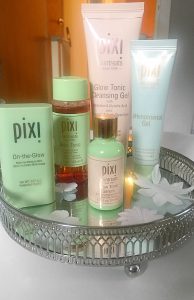 I have to say so far I am really impressed with these products, it has only been 3 days of using these and I have had compliments of my family, friends and my subscribers. I feel like I can be bare faced with these products, like I said it's like the products blur your skin out whilst making it look so glowy. I would love for you to check out my skin care routine of me using these products on my Youtube Channel. I love to share my opinions with you guys, comment down below your favourite Pixi Beauty product.
These reviews are all my own, this is not sponsored but I was gifted the products.
#AD-Gifted
Don't forget to drop by my Instagram and say Hello! x